The Militarization of America's Police
The federal government is arming local law enforcement with tanks and assault weapons. It is essentially a way for the government to bypass the Posse Comitatus Act of 1878 by simply militarizing the police to the point where they are indistinguishable from the actual armed forces, effectively eliminating the need to even declare martial law.
A glaring example of the steady march toward
de facto
martial law in which police are so
militarized
there is
little to no difference between them and the military itself
occurred again in San Bernardino, California.
On the morning of December 2nd, 2015
, a heavily armed man and woman dressed for battle opened fire on a holiday banquet for the man's co-workers with the San Bernardino County Department of Public Health, killing 14 people and wounding 17 (10 were hospitalized in critical condition, and three were in serious condition). Survivors of the shootings at the banquet, which began at 11 a.m., identified the man as their co-worker Syed Rizwan Farook and his new wife Tashfeen Malik. Farook, 28, was a restaurant inspector for the health department and had been a county employee for five years.
According to reports
, there was some type of dispute at the banquet before Farook, who was born in Chicago, left the event. He later returned with Malik, 27, who he met on a trip to Saudi Arabia, and four firearms; they opened fire on colleagues who earlier this year had thrown a shower for their new baby. The couple left their 6-month-old daughter with relatives before heading to the center for the holiday party.
The banquet was held in rented space at the Inland Regional Center, at a privately run, nonprofit center for people with developmental disabilities, which employs 670 people. FBI agents and other law enforcement authorities converged on the center and searched room to room for the attackers. Triage units were set up outside. People were marched from the building, hands raised so police could search them, even though co-workers had identified the shooter(s), who already had escaped from the center. As the manhunt dragged on, stores, office buildings, and schools were locked down and roads were blocked off in the Southern California city of 214,000 people.
About four hours after the shootings, the suspects died in a shootout with police. Police, hunting for the killers, riddled a black SUV with gunfire in a shootout two miles from the center. The SUV was spotted by officers staking out the couples' home in the nearby city of Redlands. Two dozen law enforcement pursued the SUV, and a gun battle erupted around 3 p.m. A fake bomb — a metal pipe stuffed with cloth — was thrown from the SUV during the chase, according to police.
Jesus Gonzales, 36, said
his house was hit during the gun battle while his wife was inside. His wife "called me frantically saying she's hearing gunshots going off. Everywhere. And that she's scared. And that she heard noises in the house, like it's hitting the house," he told the San Bernardino Sun. "She ducked down and said she heard more than 100 rounds."
Brian Ross of NBC News reported that all employees at the center where the shooting occurred were told not to speak to reporters until they were debriefed by law enforcement (at the 2:30 mark in
this video
).
San Bernardino Police Chief Jarrod Burguan said the couple had more than 1,600 bullets when they were killed by authorities, and that they had more than 3,000 rounds of ammunition at their home, as well as 12 pipe bombs and tools that could be used to make explosive devices. "There was obviously a mission here. We know that," said David Bowdich of the FBI. "We do not know why." Muslim leaders in the community said they were unfamiliar with Farook or where he worshipped.
Because the male shooter was a devout Muslim,
as described by his father
, law enforcement employees are trying to determine a motive, "which could include workplace violence or terrorism,"
the AFP reported
.
According to the Global Terrorism Database
, "a terrorist attack is defined as the threatened or actual use of illegal force and violence by a non‐state actor to attain a political, economic, religious, or social goal through fear, coercion, or intimidation."
"We don't know the motives. Is it work, rage-related? Is it mental illness? Is it extreme ideology? At this point, it's really unknown to us," said Hussam Ayloush, executive director of the Council on American-Islamic Relations, based on conversations with Farook's brother-in-law.
A friend of a man killed in the rampage, Nicholas Thalasinos, who was passionate about pro-Israel causes, had told coworkers that Farook had a heated conversation about Islam two weeks before the attack. Kuuleme Stephens said she once happened to call Nicholas Thalasinos, 52 (pictured below), a Messianic Jew while he was having a discussion with Farook. Stephens said that Thalasinos told her that he "doesn't agree that Islam is not a peaceful religion." Stephens said Farook replied that Americans don't understand Islam. According to Stephens, both men worked as restaurant inspectors and regularly discussed politics and religion.
On December 4, 2015,
the Associated Press reported
that the FBI found evidence online that Farook's wife, Malik, a Pakistani who grew up in Saudi Arabia, had pledged allegiance to ISIS. According to the report: a "U.S. official said Malik expressed 'admiration' for the extremist group's leader on Facebook under an alias account. But the official said there was no sign that anyone affiliated with the Islamic State communicated back with her, and there was no evidence of any operational instructions being conveyed to her. Separately, a U.S. intelligence official said on December 4th Farook had been in contact with known Islamic extremists on social media."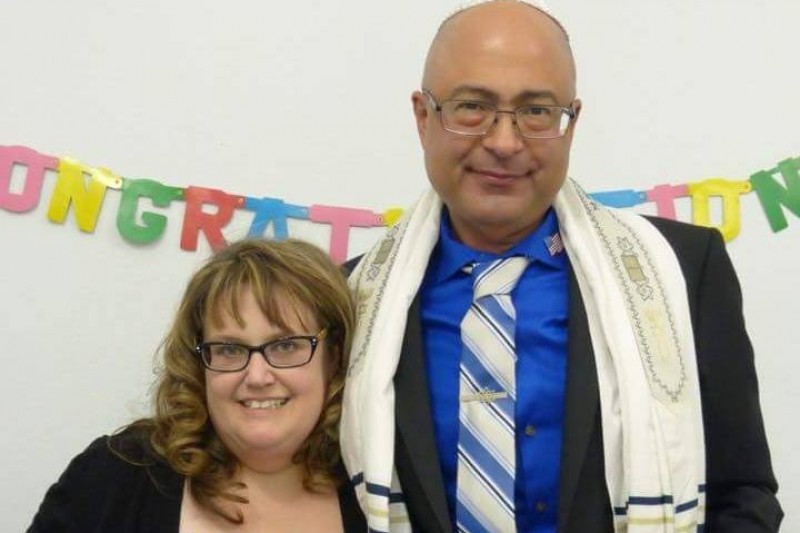 Farook's mother, Rafia Sultana Farook, in 2006 alleged that her husband, also named Syed, attacked her while her children were present, dropped a TV on her and pushed her toward a car,
according to the records obtained by The Associated Press
. She filed a no-contact, stay-away domestic violence protection petition on July 3, 2006. Rafia Farook said she was forced to move out of her home with three of her children because her husband continually harassed her "verbally and physically and refused to leave the home," according to the divorce records. Both parents were born in Pakistan.
"We condemn this horrific and revolting attack and offer our heartfelt condolences to the families and loved ones of all those killed or injured," said Hussam Ayloush, executive director of the Council on American-Islamic Relations in Los Angeles. "The Muslim community stands shoulder to shoulder with our fellow Americans in repudiating any twisted mindset that would claim to justify such sickening acts of violence."
After the Paris killings in November
, some Muslims expressed fear over a potential backlash. "When this horrific thing happened [on Friday the 13th in Paris], all the Muslims I know went through the same thing," Ronald Abdul Rahim Hubbs, a member of the Ahmadiyya Muslim Community, one of the oldest Muslim organizations in the U.S., told
International Business Times
at the time. "You first have the emotions of, 'Oh my God, that's terrible.' The second feeling that comes up is, 'Here we go again.'"
By John W. Probst, Lieutenant Colonel and Commander, 90th Missile Security Forces Squadron, F. E. Warren Air Force Base, U.S. Air Force
Twenty years ago the Posse Comitatus Act (PCA) was a standard topic of discussion only between civilian and military police and their legal advisors. Today the PCA inspires strong debate about national security. Both civilian and military police agencies continue to point to and use the PCA as rationale for and against military support to civilian law enforcement agencies. Legal writers and activists have dissected the law and its history, debating its continued usefulness and constitutional standing.
Understanding what at first seems to be a simple concept-federal troops are not to be used to enforce civilian law-demands a short review of the PCA's birth, definitions, impact on recent and current events, and present-day standing.
Congress passed the Military Cooperation with Law Enforcement Officials Act in 1981 to clarify the Reconstruction-era Posse Comitatus Act statute in key areas, particularly with regard to the use of the military to train civilian law enforcement personnel and to provide such personnel with military equipment and facilities to assist civilian police in enforcing drug laws.
Listed below are the some of the current Department of Defense (DoD) references governing support to civil authorities and their statutory authority:

Military Assistance to Civil Authorities DoD Reference: DODD 3025.15 Statutory Authority: 10 U.S.C. 375 and 18 U.S.C. 1385


Military Assistance to Civil Disturbances DoD Reference: DODD 3025.12 Statutory Authority: 10 U.S.C. 331-335


Military Support to Civil Authorities (Emergencies (Stafford Act)) DoD Reference: DODD 3025.1 Statutory Authority: 42 U.S.C. 5121 et seq.


DoD Cooperation with Civilian Law Enforcement Officials DoD Reference: DODD 5525.5
Statutory Authority: 10 U.S.C. 371-378


Military Working Dog Teams to Support Law Enforcement Agencies' Counterdrug Missions
DoD Reference: DODD 5525.10 Statutory Authority: 10 U.S.C. 371-378
Sources:
Charles D. Ayotte, "The Posse Comitatus Act Yesterday and Today," presentation to IACP Civil Law Enforcement Military Cooperation Committee, May 1, 2003; Naval War College, Library Notes, Posse Comitatus, by Alice K. Juda (Newport, R.I.: February 2002)
Birth of the Posse Comitatus Act
After the U.S. Civil War, federal troops were routinely posted at polling places to prevent drunks and former Confederate officers from voting. As Reconstruction ended and the South regained voting strength in Congress, these troops were deemed no longer necessary and withdrawn.
1
1 At the same time, U.S. boundaries were pushing westward, and frontier fort commanders were the law. Although fast in their responses, often their enforcement was arbitrary at best and sometimes suspect.
Critical Definitions
The original Posse Comitatus Act was a rider to an appropriations bill, Chapter 263, Section 15, approved on June 18, 1878. It read as follows:
From and after passage of this act it shall not be lawful to employ any part of the Army of the United States, as a posse comitatus, or otherwise, for the purpose of executing the laws, except in such cases and under such circumstances as such employment of said force may be expressly authorized by the Constitution or by act of Congress; and no money appropriated by this act shall be used to pay any of the expenses incurred in the employment of any troops in violation of this section, and any person willfully violating the provisions of this section shall be deemed guilty of a misdemeanor and on conviction thereof shall be punished by fine not exceeding ten thousand dollars or imprisonment not exceeding two years or by both such fine and imprisonment.
The provision created by "except in such cases and under such circumstances as such employment of said force may be authorized by the Constitution or by act of Congress" allowed the use of federal forces against the 1919 rioters in Chicago, the so-called Bonus Marchers in Washington, D.C., in 1932, and the railroad workers who went on strike during the administration of President Truman, who temporarily nationalized the railroads under the Army Corps of Engineers.
2
Even after the National Security Act of 1947, which consolidated the War Department and the Department of the Navy under the Department of Defense, the PCA still only mentioned the Army and Air Force by name. The other services were brought under the same prohibitions by instructions. Section 375 of Title 10 of the U.S. Code directed the secretary of defense to prescribe regulations restricting to ensure that there is no direct participation by members of the Army, Navy, Air Force, and Marine Corps in search, seizure, arrest, or other activities unless otherwise authorized by law.
Section 1385 forbids the unlawful use of the Army or Air Force as a posse comitatus by prescribing fines of not more than $10,000 or imprisonment of not more than two years or both for violations of the act.
Neither the Coast Guard nor the National Guard is mentioned in Title 18 of the U.S. Code. The Coast Guard falls under the Department of Homeland Security and maintains a day-to-day law enforcement mission. The National Guard is most often in a state status, working under the control of a state governor. "The PCA only applies to forces in federal service, and therefore, the National Guard is not limited by the PCA when its members perform duty in a state status," according to Matthew Carlton Hammond. "Because the National Guard is a modern militia, this distinction actually follows the intent of the PCA, which was not to limit militias." The National Guard, when under Title 10, is federalized and does answer to the limitations of the PCA.
3
Recent Events
In the last 30 or more years, a series of domestic events have fueled the debate over the usefulness and legality of the PCA. Exceptions have been created and used that make federal support appear to be in direct violation of the PCA. Congress permitted federal support in certain situations that were carefully enacted and closely defined exceptions. Those earning the most news media notice include the following: the 1973 standoff between federal troops and the American Indian Movement at Wounded Knee, South Dakota; the 1992 street riots in Los Angeles after the Rodney King verdict; the 1993 standoff with the Branch Davidians at Waco, Texas; the bombing of the federal building in Oklahoma City; and most recently the 2001 suicide attacks on the World Trade Center and the Pentagon. All these events involved federal troops in some manner, and some observers saw too much military involvement or not enough.
Although the public as a whole generally supports and expects federal troops' involvement in some situations, such as evacuations during natural disasters and the protection of property afterward, and replacing coal miners or air traffic controllers during strikes, there exists a fine line recognized by even our forefathers that federal government should not cross -and that is using military personnel to enforce civil laws.
At a hearing on the Posse Comitatus Act before the Subcommittee on Crime of the Committee on the Judiciary in 1981, William H. Taft, general counsel of the Department of Defense, testified,
The [PCA] expresses one of the clearest political traditions in Anglo-American history: that using the military power to enforce the civilian law is harmful to both civilian and military interests. The authors of the [PCA] drew upon a melancholy history of military rule for evidence that even the best intentioned use of the Armed Forces to govern the civilian population may lead to unfortunate consequences. They knew, moreover, that military involvement in civilian affairs consumed resources needed for national defense and drew the Armed Forces into political and legal quarrels that could only harm their ability to defend their country. Accordingly they intended that the Armed Forces be used in law enforcement only in those serious cases to which the ordinary processes of civilian law were incapable of responding.4
The Department of Defense itself has been one of the strongest proponents of upholding the PCA limitations. DoD realizes that the commitment of resources in support of civilian law enforcement efforts, a commitment that sometimes requires troops to take on unfamiliar roles, jeopardizes not only the safety of the troops and the public but also the overall military readiness.
5
Those who criticize any loosening of the PCA or the continuation of exceptions believe the fundamental separation between military and civilian spheres of action must be maintained and renewed. They believe federal troops should only be used in natural disasters, civil disturbances, and insurrection and strike replacements. They oppose the use of troops for border duty or in counterdrug roles.
6
They also fear the standup of new organizations in the wake of September 11, 2001, such as the Department of Homeland Security and the U.S. Northern Command and legislation such as the Patriot Act. They see these as institutions or ways to merely promote the use of federal troops in even larger domestic roles. But ringing just as loudly especially since September 11 is the sentiment that special military assets should be able to complement the local civilian law enforcements agencies in protection against terrorism, making the federal and local efforts more responsive and timely to prevent terrorist acts.
General Ralph E. Eberhart, commander for the new Northern Command, feels deciding how and when to use U.S. military assets during a domestic crisis are not "simple" decisions. "If a state believes it cannot handle a threat, the governor will ask the president to supply military support," he has been quoted as saying. "Only then, if the president agreed, would the secretary of defense direct Northern Command to support the mission." The general went on to say that during the 2002 Washington-area sniper attacks U.S. Northern Command officials coordinated aerial surveillance assistance for the FBI. "We had some surveillance platforms that we operated on a [military] plane and [the law enforcement officials] would be aboard, either operating the sensors and the cameras or they'd be telling us where to go. Then they would be able to download the information to their operations centers and [for] their analysis."
7
General Eberhart later explained that various laws empower the president to allow the military to assist civilian law enforcement, but that the military will never be the lead agency in a civil situation.
Posse Comitatus: How Should It Be Used?
The words used in titles of recent articles on the PCA suggest a wide range of sentiments and viewpoints surrounding the PCA and its application: passé, renewal, caution, repeal, reexamine, review, restrictions, overruling, outdated. Commentators argue that there is too little federal assistance or that there is too much federal assistance, with the latter supporting the idea that certain instances of federal aid are direct violations of the PCA.
Clearly, the debate is strong and alive, and it should be, as threats have changed dramatically. Robust and honest discussion can only serve to strengthen the functions of the PCA. General Eberhart said, "We should always be reviewing things like Posse Comitatus and other laws if we think it ties our hands in protecting the American people."
8
1
Charles D. Ayotte, "The Posse Comitatus Act Yesterday and Today," presentation to IACP Civil Law Enforcement and Military Cooperation Committee, May 1, 2003.
2
Bonnie Baker, "The Orgins of the Posse Comitatus," Air and Space Chronicles (Maxwell Air Force Base; November 1, 1999).
3
Matthew Carlton Hammond, "The Posse Comitatus Act: A Principle in Need of Renewal," Washington University Law Quarterly 75 (Summer 1997).
4
Alice Cherbonnier, "Civics Lesson: Just What Is the Posse Comitatus Act?," Baltimore Chronicle & Sentinel, August 7, 2002, available at (
www.baltimorechronicle.com/posse_aug02.shtml
), June 2, 2004.
5
Chris Quillen, "Posse Comitatus and Nuclear Terrorism," Parameters: The Army War College Quarterly (Spring 2002).
6
Hammond, "The Posse Comitatus Act."
7
Stacie Shafran, "Northern Command Leader Visits Hanscom," U.S. Air Force News Service release, March 5, 2003.
8
Shafran, "Northern Command Leader Visits Hanscom."
Related: